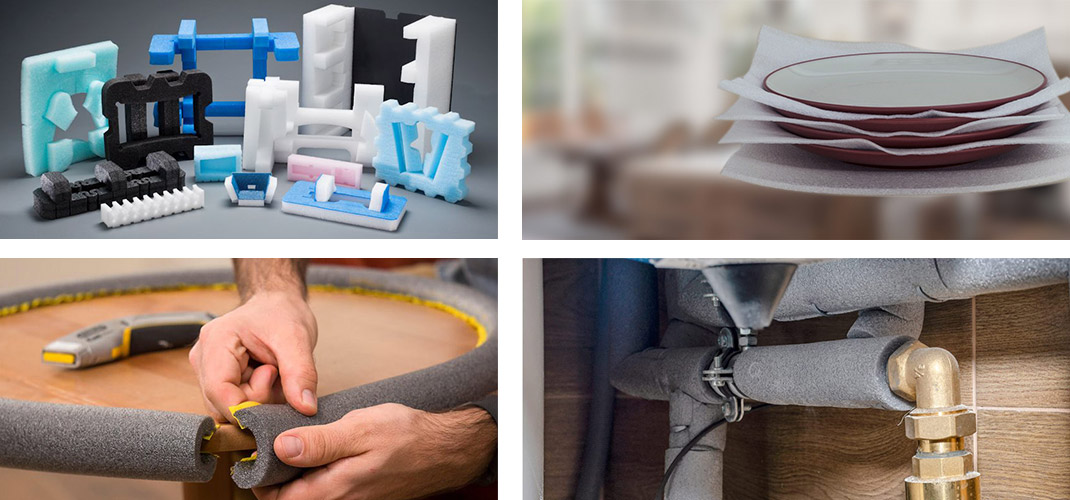 It is extremely important to choose reliable, efficient and sustainable EPE foam solutions that protect your products from atmospheric, shock and magnetic damage. There are various solutions which may include packaging types like liners, boxes, materials, etc. EPE foam is one of them.
What is EPE foam & its properties?
The Expanded Polyethylene Foam, also known as EPE Foam, is one of the popular packaging materials used. The primary objectives of EPE foam is to provide good cushioning to delicate products. The manufacturing process of EPE foam involves the use of high temperatures and pressure. Typically, EPE is processed by different methods such as hot forming, laminating, trimming and butting. The unique method of processing is determined after studying the application so that customers can be provided customized EPE foam solutions that contribute to their uninterrupted day to day operations.
It overcomes the limitations and deficiencies associated with other ordinary, fragile alternatives. This plastic is flexible, harmless and light in weight. However, it can allow companies to take up more volume of goods and products. EPE foam is actually a thermoplastic resin. It is possible to melt it by cooling it or heating it and thus reshaping the same into newer objects. It is the properties of EPE foam which make it desirable and unique. EPE foam, available in different densities, is equipped with properties such as water and moisture barrier, heat preservation, and resistance to several chemicals, making it an ideal substitute to traditional materials. Notably, the chemical makeup of EPE foam is mostly similar to many plastics.
Key advantages of EPE foam
Flexibility
Shock absorbency
Ability to regain original shape
Resistance to chemicals
Resistance to static
The best insulation against heat
Food safe
Non-toxic
Easy handling
Possibility of color coding and more aesthetics
EPE foam uses
It has a variety of applications across multiple industries. From EPE foam tubes, EPE foam profiles, sheets, to backer rod, a packing form is considered to be one of the most viable, efficient, safe and healthy options. EPE foam is widely used in packaging of products such as food, lighting, appliances, etc. Industries that use EPE foam packaging are food and beverage packaging, healthcare, construction, automotive, etc.
Is it possible to recycle EPE foam?
EPE is an environmentally-safe material. It can be recycled due to its versatile physical properties. Today, companies need to make their choice of the products and practices they employ partially based on the impact they can have on the environment. In this regard, EPE foam wins. As mentioned, foam can be reshaped into different shapes for several times because it is equipped with high thermal resistance properties. EPE foam is capable of maintaining its chemical structure under high temperatures, which allows itself to be reused or recycled. Some common methods of recycling can include bonding, grinding, carpeting in big areas, etc. The recycling process can be very simple – heat it until it melts and then reshape it.
Looking for customized, efficient and feasible EPE foam solutions?
Shrinidhi Plastic Industries – Crafting EPE Foam Solutions for over two decades.
Shrinidhi Plastic Industries manufactures high-quality foam products and thus provides solutions, created using cutting-edge technology, regulatory compliant practices, keeping in mind exact requirements of our esteemed clients. With human and technology excellence as our core strength and customer-centric solution as our key objective, the team manufactures premium quality products to meet your needs every time. We offer a wide range of industrial foams and have been able to maintain long-lasting relationships with our clients.
Connect with our team to explore a broad spectrum of quality products.