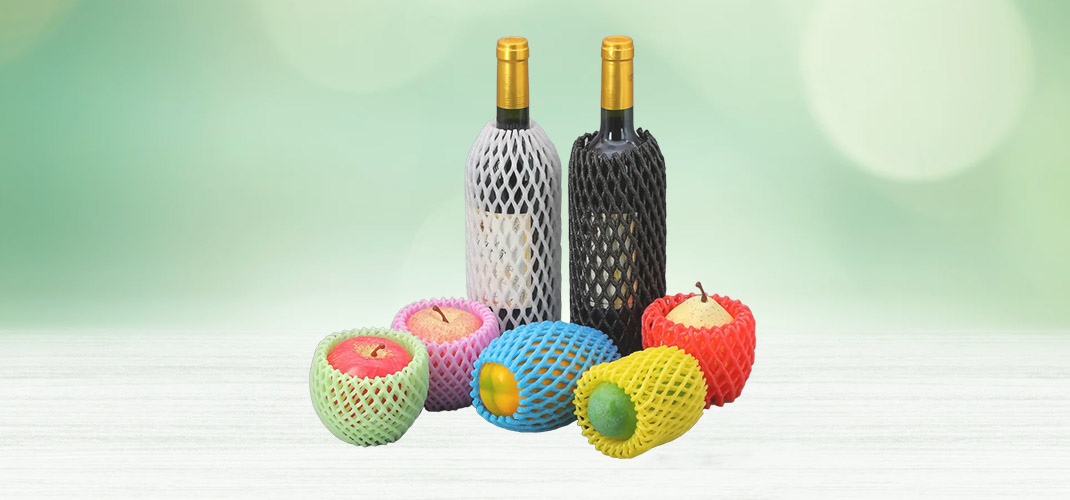 What is foam Net?
Foam net is a fantastic product that protects products from damage. That's why we are using foam net for fruit packing. It is the safest and most attractive method for fruit packaging and shipping. Foam nets are reusable, non-toxic methods of carrying fruits.
What are the fruits we can mostly pack using Foam Net?
As this is the most effective method for packing fruits, we have foam nets for fruits according to their size and variety. We have foam nets for Mango, Apple, Papaya, watermelon, and guava foam net.
What are the fruits we can mostly pack using Foam Net?
For Guava- 40x80x180 mm and 40x80x220 mm
For Apple and Mango- 50×125 mm and 50×135 mm
For Papaya and Watermelon- 80×160 mm and 80×170 mm
After all these details, you may think, why should I use this foam net for my fruit business?
The answer is straightforward: fruits will be transported from one place to another and loaded in trucks. It will travel in rural, town roads and traffics. Do you think just fruits will be safe without any cover? No, fruits are the softest think and most easily damageable thing. So using a foam net for fruit
What are the other reasons we need to use foam net?
Safest method
While transporting fruits and vegetables, a foam net is an effective method to follow for fresh fruits. It prevents damaging fruits and vegetables.
Reusable
Other than any method of carrying fruits, a foam net can be used repeatedly. So it will save tons of money you can use for your business development.
Environmental friendly
If we are using foam net for fruits again and again. It will reduce environmental waste and also protect your product effectively.
Most hygienic way
A foam net is the cleanest way of keeping fruits. It will prevent fruits from dust and pollution from the road or vehicles.
Tough and robust protection
Foam net looks so light, and you may wonder what kind of protection it can give for your softest fruits, but it is the most vital protection for your soft things, especially in travelling.
Moisture resistance
While travelling through trucks, trains and buses in rain or sun lights. Foam net helps in preventing rain, water, dust and pollution.
Other than fruits, what kind of products can we cover using foam net?
Vegetables can be protected using foam net, and it can protect just like fruits.
Glass bottles can be protected using a foam net.
Conclusion
A foam net is the most incredible idea that protects fruits, vegetables, and all glass materials while travelling or sending through couriers. No need to worry about product protection while using a foam net. It will be the most significant protection for all-time solutions. You can find the best quality foam net at https://shrinidhifoam.in/. Shrinidhi products always show the best support for customers. For all products like fruits, vegetables, and glass materials, you can contact https://shrinidhifoam.in/.